Active Rehab – Why You Should Try This Auto Injury Treatment Option
Active Rehab – Why You Should Try This Auto Injury Treatment Option
Written By Preferred Family Chiropractic on November 27, 2020
---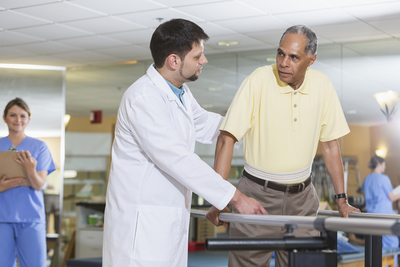 An auto accident can leave you incapacitated – even if the collision was minor.
The pain you experience after the accident can adversely impact your work and personal life. Exercise, sports, even general daily activities, like cooking, cleaning, and driving, can seem impossible.
Thankfully, you can find relief and heal your body after an accident with an auto injury treatment plan from your Clermont chiropractor. A particularly helpful treatment after an accident is active rehab.
What Happens to Your Body During a Traumatic Incident?
After an auto accident – or any type of traumatic injury – your body goes into an inflammatory response. Damaged cells release various chemicals that cause blood vessels to leak fluids into surrounding tissues. The result is swelling.
Your body will also start building scar tissue to repair damaged tissues.
Scar tissue isn't as flexible as skin or muscle tissue, so you can experience even more stiffness and loss of range of motion.
Active Rehab – Why It's an Ideal Auto Injury Treatment Option
After your initial examination, your Clermont chiropractor will create an auto injury treatment plan, which will likely include active rehab.
Utilizing various exercises and stretches, your chiropractor can help you regain strength and balance while restoring your mobility and range of motion.
He'll perform a series of balance and strength tests, then demonstrate exercises that will improve these. To start, he may help you with therapist-assisted stretching to ease muscle tension. As you gain strength, you'll start using resistance bands and exercise balls to improve strength.
The goal is not just to build strength and improve balance, but to also prevent further strain, irritation, or injury. So, the process will go according to your body's needs, not a set schedule.
Choose a Chiropractor with Auto Injury-Related Training
Should you go to just any Clermont chiropractor after an auto accident? Your best bet is to schedule a consultation with a chiropractor that has extensive training in post-accident treatment.
Dr. Adrian M. Williams is certified in personal injury impairment. He also has extensive training in post-collision recovery and rehabilitation.
If you've been in an auto accident, Dr. Williams will create an auto injury treatment plan that fits your unique needs. He'll take into consideration your injuries, preexisting conditions/limitations, and what your goals are post-recovery.
Have you sustained an injury that's left you unable to perform optimally at work or school? Contact us today at 352-536-1300 to schedule a consultation.

Posted In: Chiropractic Auto Injury Treatment Whiplash Treatment Active Rehab