Workplace Ergonomics - How to Maintain Optimal Health and Energy
Workplace Ergonomics - How to Maintain Optimal Health and Energy
Written By Preferred Family Chiropractic on August 7, 2020
---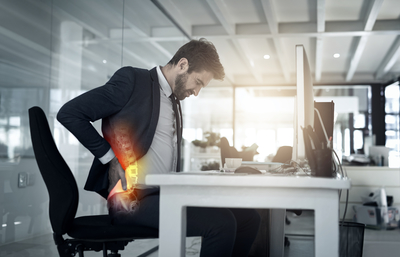 Each year in the United States, there are nearly 6,000 deaths and 6.3 million injuries at the workplace. The number one occupational injury in America is chronic or acute back problems, accounting for over 1 million of these incidents annually. It's no wonder that lower back pain is the leading cause of disability worldwide.
Workplace ergonomics keep workers safe. Employers have federal guidelines that they must follow to ensure the safety of their employees, but what happens when employees work from home?
3 Fundamental Workplace Ergonomics Principles to Live By
If you have begun to work from home or you're doing projects around the house, you must keep these three fundamental workplace ergonomics principles in mind.
1. Improving Posture and Maintaining a Neutral Posture
Having a poor work posture is murder on your back and overall health. Improving your work posture can reduce pain, improve your circulation, boost energy, and more.
Strive to maintain a neutral posture. Keep your back completely straight when sitting or standing to keep your joints aligned and minimize stress on your body. Keep your feet flat on the floor, avoid crossing your legs or ankles, and avoid awkward positions whenever possible.
2. Following Proper Lifting Guidelines
Following proper lifting guidelines will help you avoid injury, including strains and sprains. Always lift objects close to your body, between mid-chest and mid-thigh height. This will allow you to minimize excessive reaching and maintain your neutral work posture. Always lift with your legs instead of your back.
3. Break Up the Day with Movement and Stretching
Your body is designed to move, and inactivity can lead to stress on your joints, back pain, obesity, and other health conditions. Strive to break up your day with movement and stretching at least once every 30 minutes. When possible, avoid standing or sitting in the same position throughout the day. Always stretch before lifting something heavy and after completing a task.
Combining a Better Work Posture with Chiropractic Care
Dr. Adrian M. Williams has become a cornerstone of the Clermont, Four Corners, and Citrus Ridge communities for his patient-centered approach. Each client receives tailored chiropractic care services to ensure that each patient's needs are met.
Your first visit will include a physical exam and a discussion about your health goals, medical history, and treatment options. In many cases, patients receive same-day treatment during their initial consultation. Your visit may include services such as therapeutic modalities, physiotherapies, and spinal adjustments.
Improving posture is a significant first step and, when paired with chiropractic care, can do wonders for your back and health. Contact our office today at (352) 536-1300 to learn more about what chiropractic can do for you.

Posted In: Chiropractic Back Pain Posture Correction Ergonomics