Why Chiropractic Care Is the Ideal Neck Pain Treatment for Text Neck
Why Chiropractic Care Is the Ideal Neck Pain Treatment for Text Neck
Written By Preferred Family Chiropractic on March 14, 2019
---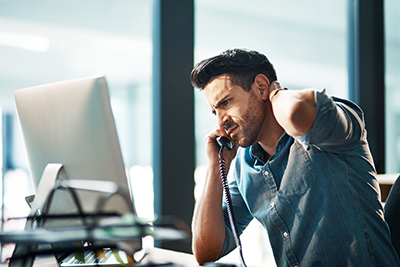 Did you know that your smartphone can give you a headache?
Text neck is a very real issue, and those who deal with it experience a range of symptoms, from annoying stiffness to all-out debilitating neck pain.
If you've noticed neck strain and pain, read on to find out why text neck is so serious and how a chiropractic neck pain treatment plan can help.
What Is Text Neck and Why Is It Such a Painful Condition?
There's so much you can accomplish on your phone. From keeping in touch with friends and family, to tracking your fitness and building a business – it can all be done on your phone (or tablet, or laptop).
While the convenience is great, the physical after-effects aren't.
Why is text neck so serious? It's because it can cause some major damage.
While standing up straight, your body is in proper alignment. Time spent looking down on the phone pushes the body out of alignment. The head is tilted forward. The neck and shoulders are rounded. In this position, the muscles of the head, neck, shoulders, and upper back are pulled out of alignment.
This strains the muscles and can lead to:
Muscle spasms
Headaches
Chronic neck pain
Pinched nerves.
Anyone who suffers from text neck should seek out a chiropractor for neck pain treatment in Clermont.
Neck Pain Treatment in Clermont: Why Chiropractic Care Is Such a Good Option
What kind of neck pain treatment can a chiropractor offer their patients?
First, we focus on prevention. We show you how to achieve proper posture on a daily basis – even while on your phone, tablet, or laptop.
Next, we adjust the spine so that it's back in proper alignment. The goal is to reduce the risk of permanent damage and to get you out of pain.
Finally, we'll help you strengthen your muscles and prevent injury with physiotherapy and exercises you can do at home. This will reduce the strain and inflammation and provide you with increased mobility.
Don't Suffer in Silence – Talk to Your Chiropractor about Your Pain
So many people try to suffer through neck pain in silence, feeling like they just have to power through.
You don't have to continue to suffer with text neck, though. With chiropractic treatments, as well as regular breaks from your phone, you can find relief from your symptoms.
Talk to your chiropractor about your pain so they can help you find the best neck pain treatment in Clermont.
Are you tired of putting up with neck stiffness, strain, and pain? Call us at (352) 536-1300 to schedule a consultation. We look forward to helping reduce your text neck symptoms.

Posted In: Chiropractic Back Pain