Common Injury Symptoms After a Car Accident
Common Injury Symptoms After a Car Accident
Written By Preferred Family Chiropractic on September 8, 2020
---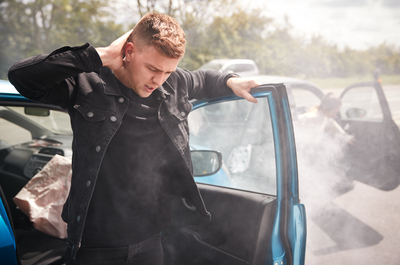 In the United States, there were about 6,734,000 motor vehicle accidents, with around 1,894,000 injuries in 2018 alone. Studies have shown that accidents attribute up to 37 percent of chronic back and neck pain, with whiplash being a prominent concern for patients.
Auto injuries are not always visible, and some symptoms of an injury may not be present immediately following an accident. Injuries such as whiplash may not present symptoms until 24 hours following an accident or longer.
What is Whiplash?
Whiplash is a type of neck injury that most commonly occurs in car accidents. In whiplash, nerve roots, cervical muscles, spinal discs, ligaments, and joints may become injured as a result of sudden backward and forward jerking motions of the head. Symptoms are not always immediate, and studies estimate that 15.5 million Americans alone experience late whiplash, which can lead to chronic pain disorders.
The Most Common Subtle Injury Symptoms After a Car Accident
Some of the most common subtle symptoms of an injury resulting from a motor vehicle accident include:
Neck or back pain or stiffness
Pain that radiates into the shoulders, arms, or hands
Numbness or weakness
Dizziness, difficulty concentrating, and difficulty remembering
Mood changes, irritability, and sleep disturbances
Fatigue
Frequent or persistent headaches
Loss of range of motion
Chiropractic Auto Injury Treatment
Chiropractic auto injury treatment reduces pain and can prevent symptoms from becoming chronic. Benefits of chiropractic car accident treatment include:
Reduce pain without the use of drugs
Reduce inflammation and tension
Restore mobility and range of motion
Reduce or prevent scar tissue
You should never wait to seek treatment following an accident. You may have sustained an injury, such as whiplash, even if symptoms are mild or not present.
Finding the Best Auto Injury Treatment Options Near You
Dr. Adrian M. Williams has become a cornerstone of the Clermont FL community for his patient-centered approach to chiropractic treatment. Dr. Williams has undergone extensive training in post-traumatic auto injury recovery to help his patients recover from auto accidents, both large and small.
Your first visit will include a physical exam and a discussion of your medical history, injuries, and car accident treatment options. In most cases, same-day treatments are available, and patients may receive chiropractic services such as spinal adjustments, physiotherapies, and therapeutic modalities.
Do you need car accident treatment? Don't wait for an injury to cause chronic pain. Call our office today at (352) 536-1300 to schedule an appointment.

Posted In: Chiropractic Auto Injury Treatment Whiplash Treatment