Active Rehabilitation in Clermont – What Is It? Should You Try It? 
Active Rehabilitation in Clermont – What Is It? Should You Try It? 
Written By Preferred Family Chiropractic on February 7, 2020
---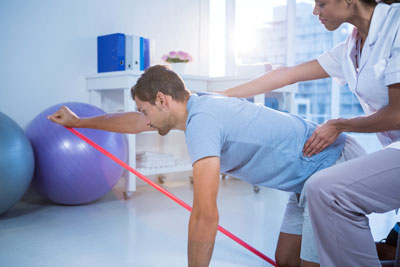 When you're in pain, the last thing you want to do is start exercising.
Such is the goal of active rehabilitation in Clermont. The idea is to get moving with specified exercises that, believe it or not, can help reduce your pain.
How does this form of therapy work, and is it effective?
Active Rehabilitation in Clermont – What Is It and How Does It Work?
Active rehabilitation is a type of physiotherapy. With this form of treatment, your Clermont chiropractor will have you perform various exercises using a couple of different physiotherapy tools. These include:
The activities you'll do can help improve your general conditioning, as well as your physical performance. During each session, your chiropractor will help you through a variety of exercises to ensure you're performing them with proper technique. The exercises are progressive and will help to reduce pain, improve agility, increase range of motion, and improve your overall health.
How This Type of Treatment Works
Theraband – Working with a resistance band helps to build muscle and encourages better flexibility
The Physioball – This ball is used to build strength throughout your core, and can also improve balance
One Size Doesn't Fit All – Why You Should Try Different Forms of Treatment
Dr. Adrian M. Williams, D.C. has received extensive training not just in chiropractic, but also in therapeutic rehabilitation. Why did he decide to go above and beyond when it comes to the type of treatments to offer his patients? It's because he doesn't believe in a one-size-fits-all approach to care.
When you visit Preferred Family Chiropractic, you're going to receive a treatment plan that is tailored to your unique needs. If you just need chiropractic adjustments – great, that's what you'll get. If added treatments, like active rehabilitation, would benefit you more, that's what Dr. Williams will recommend.
Are you intrigued by what you've read about this therapy so far? Contact the team at Preferred Family Chiropractic at 352-536-1300 to learn more.

Posted In: Physiotherapy